K-Bay Lanes - June 17th, 2017
Total Paid Out: $5,667.00
K-Bay Lanes 
First Time Champion. . . . 
After a Great tournament at Ft. Shafter Lanes with 87 entries, paying 17 places; paid out $7,202.00 w/1st Place worth $1,573.00, our 9 Tap Tour tournament traveled to K-Bay Lanes, Kaneohe.  We were hoping to field a good turnout for our Quarterly and "Best 3 out of 4" tournament.  We also thought by adding a couple of surprise prizes would help promote a good tournament and turnout.  We were in for a real shocker!!  Throughout the week, we were contacting K-Bay for additional base passes and then meeting some of our members to pass them out.  Of course, our thoughts were," if we could just get by," we should be okay and really make a decision on whether to return to K-Bay for other tournaments.  As it turned out, in the first squad, we had a reality check as there were only 9 entries and so we thought bowling at K-Bay Lanes could prove to be a detriment to the Tour.  BUT . . . our members proved us wrong and K-Bay Manager Elden Doi was ecstatic.  We ended with 52 bowlers turning out at K-Bay for the "Best 3 out of 4"  tournament w/72 entries, 14 cashers and paid out $5,667.00 w/1st Place worth $1,444.00.  Also, K-Bay's tournament history revealed that 68% of members became 1st time winners.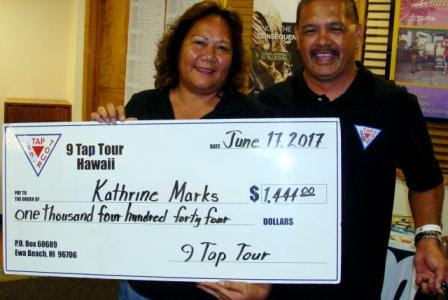 Kathrine and Conway Marks entered the last squad and were on the lanes with AJ and Samantha Rodriquez and Virgil Dela Cruz.  They were having a fun time bowling.  The soft spoken Kathrine with Samantha was hitting the head pin and pins were just falling.  The oil pattern was a difficult shot but with just a little bit of "menehune luck", you had a chance to score.   Since joining the tour, both Conway and Kathrine have been supporting the 9 Tap Tour and having an awesome time. 
Scores were on the low side as Daniel Perreira set the stage for Katherine Marks, posting a 734 score to lead the first squad.  Ricky Laguana and Cora Naki-Souza had nothing to do with that and posted 775 and 774 scores respectively.   Although there were high scores going up on the scoreboard, it didn't bother Kathrine as she posted a couple of high scores herself.  After starting with an okay first game score, she shoots her personal best 242 and a chance to beat the leaders.  She finishes her third game and jumps onto the leader board with her eventual winning score of 839.  Ricky Laguana finished in 2nd place with a 775 score and Cora Naki-Souza in 3rd place with a 774.  
Kathrine wins her  first title and takes home $1,444.00.  She used a Storm
 Match drilled by Virgil Dela Cruz of Exxxtreme 300 Pro Shop.  Kathrine thanks the 9 Tap Tour for having her on Tour.  She plans to buy her husband Conway his "Father's Day Gift".  Awesome!!  Congratulations, Kathrine on your first title!!! 
Progressive and 9 Tap Jackpots 
The 9 Tap Jackpot stands at $6,040.00 and the Progressive Pot decreased a little to $1,251.00.  There was a two way tie in the 9 Tap Jackpot as Kathrine Marks and Kevin Asato put together four no taps and got $50 each. Tell your friends and family about your tour, it's "Fun and Exciting" this year and the pots are still "BIG".​ 
Finish

Winners

Handicap

Total Score
Prize Money

1st

Kathrine Marks

56

839

$718

1st Place $1,444.00

$20 Progressive Pot

$726

2nd

Richard Laguana

-5

775

$364

2nd Place $654.00

$20 Progressive Pot

$290

3rd

Cora Naki-Souza

38

774

$191

3rd Place $336.00

$20 Progressive Pot

$145

4th
Samantha Rodriguez

53

769

$159

5th
Kevin Asato

-5

762

$143

6th tie
Michael C. Yutaka

7

757

$122

6th tie
Raymond Seabury

14

757

$122

8th
Rocky Otsuka

30

752

$104

9th
Al Melchor

25

751

$95

10th
Michael Dudley

8

748

$86

11th
Conway Marks

26

747

$78

12th
Daniel Perreira Jr.

-3

734

$70

13th tie
Michael Naehu

10

729

$62

13th tie
Randy Kaea-Cook

-2

729

$62
| Award | Score | Recipient | Prize |
| --- | --- | --- | --- |
| Scratch High Series | 990 | Ricky Laguana | $120 |
| 2nd | 973 | Kevin Asato | $75 |
| Scratch High Game | 300 | Ricky Laguana | $120 |
| 2nd | 278 | Kevin Asato/Randy Kaea-Cook | $76 |
| | |
| --- | --- |
| | $1,251.00 |
| | |
| --- | --- |
| | $6,040.00 |


•4 No Taps $100.00 ($50.00 each)
Kevin Asato & Kathy Marks

| 72 Entries @ $33 | $2,376.00 |
| --- | --- |
| Side Pots | $1,639.00 |
| High Scratch Game/Series Pot | $391.00 |
| 9-Tap Jackpot | $100.00 |
| Progressive Pot | $1,161.00 |
| Total Paid Out This Tournament | $5,667.00 |

| Time | Each | 1st Game | 2nd Game | 3rd Game | 4th Game |
| --- | --- | --- | --- | --- | --- |
| 12:00 | $6 | Daniel Perreira | Christalynn Bonifacio | Daniel Perreira | Christalynn Bonifacio |
| total | $24 | 273 | 268 | 249 | 234 |
| 2:30 | $20 | Ricky Laguana | Ricky Laguana | Cora Naki-Souza | Randy Kaea-Cook |
| total | $80 | 274 | 295 | 309 | 281 |
| 5:00 | $25 | Mike Dudley | Randy Kaea-Cook | Conway Marks | Kevin Asato |
| total | $100 | 278 | 267 | 292 | 273 |