Kenmore Lanes
July 23rd, 2022
Total Paid Out: $8,388.00
This weekend saw some incredible bowling, tight competition and the predicted assaults to take-down the Jackpot.  The day started out quickly with an impressive 1087, but that was only the beginning.  The warmer temps were clearly having an effect on the lane conditions, but the Top 4 scores were spread out with one in each of the FOUR squads, with the Champ coming thru in the Final Squad.  119 entries showed up at Kenmore Lanes and you definitely needed your 'A' game to reach one of the 24 places on the Cash List.  Scoring was a little on the high side, with a low to cash of 945.  The 9-Tap Jackpot started at a sweet $5,097.00 and coupled with Kenmore's recent history of big Jackpot payouts, we expected that the Front-7 could get hit Saturday.  Well, both Huyen Thai and Paul Mann strung the Front-6, giving each a 'Golden Shot', ONE BALL FOR $4,077.00.  After both Huyen and Paul started their games with the Front-6 Taps, both also threw perfect strikes in their 7th frame.  They split the $500.00 Consolation for the Front-6 Taps, each taking home $250.00. 
         Huyen Thai 7th shot and Paul Mann 7th attempt  
Taking home his 
THIRD
Championship 
and a two-time Winner at 
Kenmore Lanes is Trai Ly
.  
Trai 
started out slowly on his first entry, but gave it another shot re-entering in the last squad.  Boy did he ever take advantage of getting lined-up. 
Trai 
shot three really nice games, but still needed a clutch finish in his fourth game.  After struggling a bit in the first half of game #4, 
Trai 
buckled down, cleared his head and ripped-off the 
4 strikes 
he needed to pull out the 
11 
pin Win, with his awesome 
1098
 series, his 
Personal Best
 since joining the 
Tour 
in 
2015
.  This time, 
Trai 
used his 
Hammer 'Obsession' 
drilled by
 Pat Johns
 at the former 
Hiline Lanes.
  He wanted to thank his buddies and lane mates, 
Huyen Thai
 and 
Thang Duc Thai
, for their support. 
Trai 
plans on using his big payday of 
$2,159.00
 for taking a vacation.  After his great bowling and big check, 
Trai 
said he is more excited about getting his new 
White (for #3)
Championship Shirt.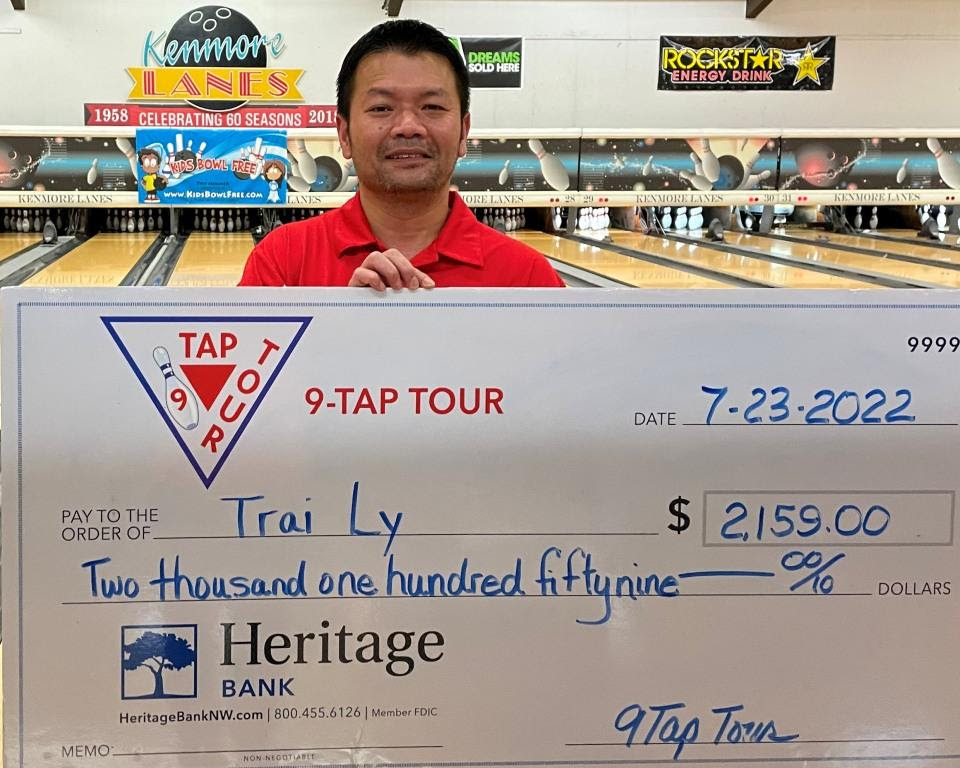 Kenmore Champ Trai Ly         Trai Ly first title Kenmore Lanes 2-1-2020
Coming in 2nd Place is Joe Ferrara, who joined in May, tossing his Personal Best series (1087) by over 100 pins, in the first squad.  That big score also put a huge target on his back, but it looked like it might hold-up for his 1st Tour Title.  Joe will enjoy his 2nd Place check worth $964.00 and brighter moments in future Tournaments to come.
Trying for his 4th Tour Title, Greg Burdsall fired a really sweet 1052 series, which included a nice 300 game, which earned him an extra $110.00 from the Scratch Pot.  Coming off his 2nd Place last week, Greg clearly is in that 'Zone', making the Cash List in FIVE straight, including THREE Top-4 finishes.  This week he took home a nice check of $493.00. Watch out for Greg, looks like he is on a roll! 
Finish

Winners

Total Score
Prize Money

1st

Trai Ly

31 + 1

1098

$1,000

1st Place $2,159.00

$20 Progressive Pot

$1,159

2nd

Joe Ferrara

25 + 0

1087

$500

2nd Place $964.00

$20 Progressive Pot

$464

3rd

Greg Burdsall

3 + 0

1052

$261

3rd Place $493.00

$20 Progressive Pot

$232

4th
Phil Taylor

37 + 1

1039

240

5th
Nathan Koprek

28 + 1

1032

220

6th
Kris Tong

34 + 1

1031

180

7th
David Kim

7 + 4

1016

160

8th
Bryce Bridgman

38 + 2

1013

150

9th
William Kenny

32 + 0

1009

140

10th
Richard Valdez

36 + 0

1006

130

11th
Paul Mann

30 + 4

1002

120

12thT
Rabiah Akins

36 + 4

984

108

12thT
Mitch Lomax

21 + 0

984

108

14th
Todd Strothman

25 + 2

976

100

15th
Chuck DeForest

9 + 0

958

95

16thT
Anthony Hill

29 + 1

957

88

16thT
Brian Kuykendall

27 + 1

957

88

18th
Jeremy Milam

40 + 2

955

80

19th
Zac Clute

9 + 1

954

75

20thT
Travis Washington

59 + 2

949

68

20thT
Earl Kleist

9 + 1

949

68

22nd
Jessica Trinidad-Hill

55 + 1

948

64

23rdT
Brian Peters

0 + 0

945

61

23rdT
Brad Diemert

18 + 0

945

61
| Award | Score | Recipient | Prize |
| --- | --- | --- | --- |
| Scratch High Series | 1040 | | $145 |
| 2nd | 972 | David Kim | $75 |
| 3rd | 970 | Trai Ly | $35 |
| Scratch High Game | 300 | Greg Burdsall & James Black | $220 |
| 3rd | 286 | David Kim | $35 |
| | |
| --- | --- |
| | $1,773.00 |
| | |
| --- | --- |
| | $5,072.00 |


6 Middle Taps • $500.00 ($250.00 each)
Huyen Thai/Paul Mann

| 119 Entries @ $35 | $4,165.00 |
| --- | --- |
| | $0.00 |
| Subtotal Prize Fund | $4,165.00 |
| Champions Shirt | $40.00 |
| Side Pots | $1,318.00 |
| High Scratch Game/Series Pot | $510.00 |
| 9-Tap Jackpot | $500.00 |
| Progressive Pot | $1,855.00 |
| Total Paid Out This Tournament | $8,388.00 |

| Time | Payout | 1st Game | 2nd Game | 3rd Game | |
| --- | --- | --- | --- | --- | --- |
| Sat. | | | | | |
| 11:00 | $21 | Chris Andreula | Leon Bemis | J.Hill & J.Ferrara | Walt Dalrymple |
| total | $84 | 291 | 301 | 290 | 302 |
| 1:00 | $16 | Greg Burdsall | Greg Burdsall | Mitch Lomax | Greg Burdsall |
| total | $64 | 267 | 258 | 279 | 303 |
| 3:30 | $16 | Chuck Deforest | Zac Clute | James Black | Earl Kleist |
| total | $64 | 307 | 274 | 307 | 266 |
| 5:30 | $14 | Trai Ly | Samson Ibale | | |
| total | $56 | 275 | 290 | | |