Skyway Park Bowl
October 2nd, 2021
Total Paid Out: $7,543.00
We returned to Skyway Park this weekend and what we saw was some spectacular bowling, 8-300 games, $500.00 pay out for the Middle-7 Taps.  The high scores were brought on by a missing Oil Pattern, that we discovered thanks to Skyway's (Kevin) diligence.  Turned out, Skyway's version of the Tour oil pattern, which is programmed in the oil machine, had been overwritten with another program, some time last year during the Shutdown.  The results was a Score Fest, that actually provided plenty of excitement, action, along with lead changes in each of the first three squads and a lead change in the Scratch Series in the final squad.  
Additionally, the predicted assault on the Jackpot materialized in several runs at the Middle-7.  In the third squad, Matt McLaughlin had the Middle 6-Taps trying for his 7th, but did not make it.  Then in the last squad Earl Kleist strung 6 but missed on #7.  Seconds later on the pair next to Earl's, Matt did it again with the Middle-6, but this time he was able to get the 7th Tap earning a sweet $500.00 for the effort.  Nice going Matt.  This day also had an unbelievable Scratch Series of 1121 by Kai Pedro, nice shooting, WOW!!  
                                 Matt McLaughlin 7th tap attempt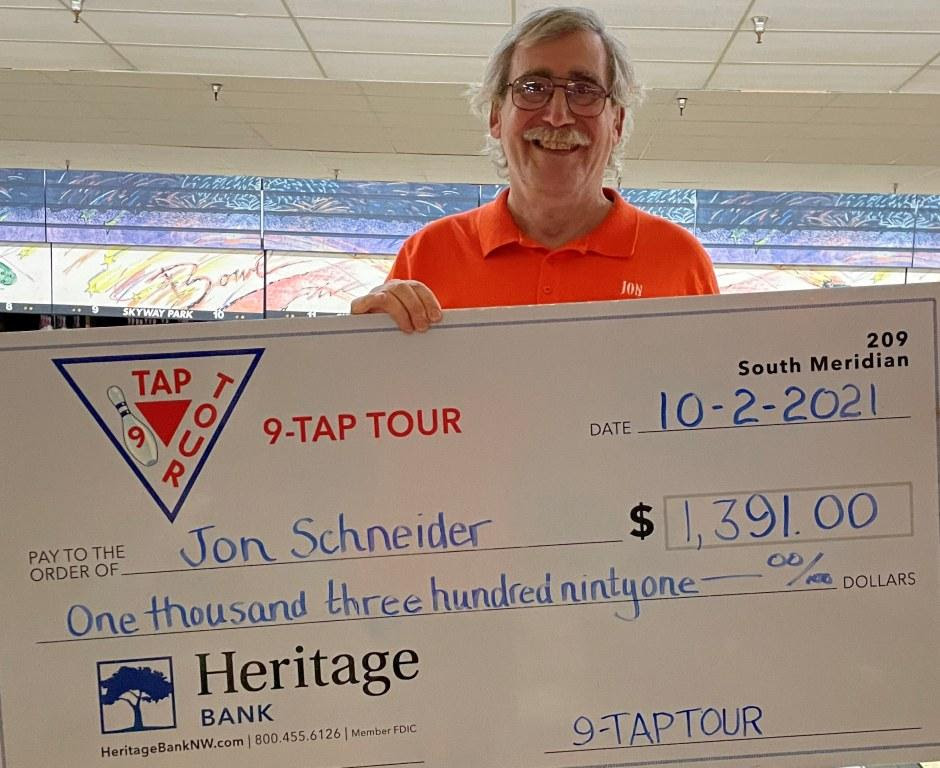 Our Skyway Park Champion this week is Jon Schneider, shooting an amazing 907 series.  The Tour Hall-of-Fame Member, scored his 11th Tour Title and is approaching the $40,000.00 career winnings mark ($38,760.00).  Jon has been fighting some health issues and surgeries the last few years, but got lined up and could not miss this week.  If all 4 games were counted, Jon shot his best series (1053) since 2008.  Jon was limited to $10 in the Progressive Pot holding him to a still healthy payday of $1,391.00, which also boosts the Pro Pot back to EXTRA LARGE size for next week.  Jon would to thank Robert Kelly for drilling his Storm Physix ball and Jerry Smith, Tim Fierro, Will Twyman and Tong Nguyen, for their support and cheering him on. 
After shooting a great 849 series in the third squad our 2nd Place winner Eddie Burdsall re-entered in the final squad improving that score to an impressive 885 series.  Eddie is still chasing his first Tour Title, this 2nd Place finish is his highest finish on the 9-Tap Tour, to go with a number of 3rd place on his record.  Nice job Eddie, earning a sweet $812.00 check to take home. 
Also trying for his first Tour Title, David Kedziorski fired off a strong 864 series and like Eddie, he re-entered and improved an already big set.  David has had two 2nd Place finishes this year and got close again.  He's been on a great roll this year, cashing 7 times since re-joining in July.  Give it some time David, looks like your first tournament win is close.  With his third place finish David takes home a tidy $426.00 check.
Finish

Winners

Total Score
Prize Money

1st

Jon Schneider

18 + 0

907

$1,000

1st Place $1,391.00

$10 Progressive Pot

$391

2nd

Eddie Burdsall

26 + 0

885

$500

2nd Place $812.00

$20 Progressive Pot

$312

3rd

David Kedziorski

17 + 0

864

$270

3rd Place $426.00

$20 Progressive Pot

$156

4th
Rabiah Akins

28 + 3

863

$242

5th
James Dowling

28 + 0

856

$220

6th
Rick Howerton

11 + 0

854

$200

7th
Jerry Smith

22 + 5

853

$180

8thT
Andy Snow

1 + 2

843

$155

8thT
Willie Manning Jr

14 + 0

843

$155

10th
Mike Crowe

28 + 0

840

$140

11th
Jesse Sherman

17 + 0

837

$130

12th
Thang Thai

9 + 0

830

$115

13thT
Matthew McLaughlin

31 + 2

828

$115

13thT
Kai Pedro

-9

828

$100

15th
Christina Miller

27 + 0

823

$95

16th
James Black

8 + 0

822

$90

17th
Alec Chandler

27 + 0

821

$85

18th
Rheimmond Acosta

57 + 0

820

$80

19th
Zac Clute

11 + 0

819

$75

20th
Joseph Frank III

53 + 0

818

$70

21st
Larry Dunson

14 + 1

810

$67

22nd
Trai Ly

35 + 1

806

$64

23rd
Grecia Camarillo

66 + 0

803

$62

24th
Jesse McReynolds

5 + 0

802

$60
| Award | Score | Recipient | Prize |
| --- | --- | --- | --- |
| Scratch High Series | 1121 | | $150 |
| 2nd | 1053 | Jon Schneider | $70 |
| Scratch High Game | 300 | Howerton/Clute/Schneider | $222 |
| | | Snow/H. Thai/Pedro | |
| | |
| --- | --- |
| | $2,093.00 |
| | |
| --- | --- |
| | $7,364.00 |


7 Taps Middle• $500.00
Matt McLaughlin

| 122 Entries @ $35 | $4,270.00 |
| --- | --- |
| Subtotal Prize Fund | $4,270.00 |
| Champions Shirt | $40.00 |
| Side Pots | $1,432.00 |
| High Scratch Game/Series Pot | $442.00 |
| 9-Tap Jackpot | $500.00 |
| Progressive Pot | $859.00 |
| Total Paid Out This Tournament | $7,543.00 |

| Time | Payout | 1st Game | 2nd Game | 3rd Game | 4th Game |
| --- | --- | --- | --- | --- | --- |
| Sat. | | | | | |
| 12:00 | $23 | Brad Diemert | R. Howerton/Z.Clute | Tong Nguyen | Nick Keher |
| total | $92 | 285 | 311 | 293 | 267 |
| 2:00 | $12 | Mike Crowe | Larry Dunson | Joseph Frank III | Mike Crowe |
| total | $48 | 291 | 315 | 283 | 328 |
| 4:30 | $17 | Thang Thai | James Dowling | Jon Schneider | James Black |
| total | $68 | 309 | 323 | 318 | 294 |
| 6:30 | $20 | Rabiah Akins | Willie Manning Jr | Eddie Burdsall | Andy Snow |
| total | $100 | 297 | 307 | 302 | 293 |