Skyway Park Bowl
April 24th, 2021
Total Paid Out: $4,326.00
WHAT A TOURNEY... The TOP 5 finishers were ALL chasing their 1st Tour Title!!  We would like to thank all our bowlers for their patience at Skyway Saturday... I'm sure you understand with the long layoff from Covid, it will take sometime for the Centers to get back to up and running smoothly.  With that said, all we can say is WOW... the scoring was unbelievable.  The oil pattern was actually the same one that we've used at Skyway for several years, but we suspect that the calibrations on the machine are off a bit, as the oil volume appeared higher than normal.  Thanks to the layoff, it will require a visit to each Center for us to learn where we're at... right now, it's a little like shooting in the dark.  Of the 14 payoff spots, 13 bowlers scored over 1000... it was an all out shoot out. The 9-Tap Jackpot saw only two bowlers reaching 4 front taps, Roland Jarata and Skip Shear both winners taking home $50.00 each.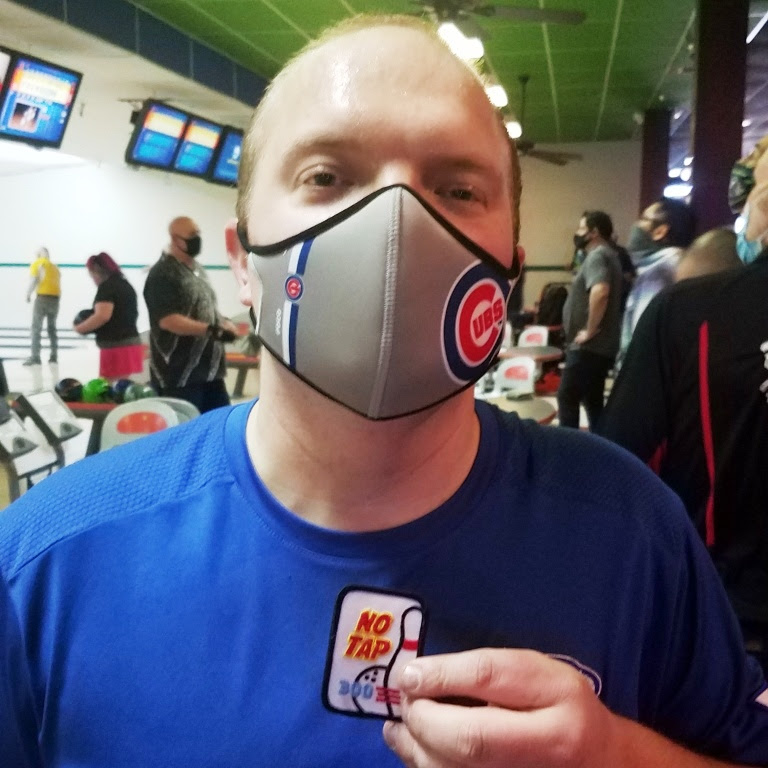 A special note, Nick Kehler travels all the way from Moses Lake to compete on the Tour.  He tossed his first Tour 300 game, which would have paid-out in the Scratch Pot, but he wasn't in it... AND in the process he strung  7-MIDDLE Taps... which would often pay $500.00 if the Jackpot is over $4,000.00... but it wasn't.  We're sure he will do it again... when it does count!  As a side note, the food at Skyway Park was wonderful.
Jeff Scott
 has held the 
All-Time High Series
 Record of 
1216
 for 13 years... set at Paradise in 2008.  Skyway Champion 
Will Beleford
 topped that Record by ONE-PIN with a MONUMENTAL 
1217
.  Will's first time making the Cash List, since joining in 2019, was a HUGE breakthrough, earning his First Title & breaking a record, although having only $10 in the Pro Pot limited his earnings this time, still taking home a nice 
$966.00 
for his effort.  Will used his 'Motive Rising' ball drilled at Derek Handy's Pro shop for the feat.  He would like to thank his girl friend Grace for cheering him on.  He has no plans at this time with his winnings, just putting it in saving. He is a league bowler at Hiline Lanes and Skyway.  Great Shooting, Will!!!
2nd place went to Angel Inouye, who was quite an all around athlete in her day.  Not just as a bowler, but a competitive track athlete, motocross racer, down hill skier and many other skills.  Shooting a very fine 1128 series, which is her highest score and finish in the tour.  She takes home $325, as she was not in the Progressive Pot. 
Our third place finisher is Billy Rucker, trying again for his 1st tour title. Billy finished 2nd a couple weeks ago at Hiline Lanes. He takes home $346.00 for his third place finish. Keep it up Billy, the title is on its way.
Finish

Winners

Total Score
Prize Money

1st

Will Beleford

45 + 0

1217

$650

1st Place $966.00

$20 Progressive Pot

$316

2nd

Angel Inouye

36 + 0

1128

$325

2nd Place $325.00

$20 Progressive Pot

$0

3rd

Billy Rucker

39 + 0

1123

$220

3rd Place $346.00

$20 Progressive Pot

$126

4th
Ed LeBaron

24 + 0

1092

$190

5th
Zac Clute

16 + 0

1081

$160

6th
Thang Thai

9 + 2

1056

$140

7th
Roland Jarata

27 + 0

1055

$120

8th
Martin McElroy

27 + 4

1037

$110

9th
Kris Tong

36 + 0

1034

$100

10th
Rick Thompson

34 + 3

1031

$90

11th
Donnie Roberts

36 + 4

1030

$80

12th
Rick Howerton

7 + 0

1024

$70

13th
Trai Ly

35 + 1

1004

$65

14th
Willie Downing

29 + 0

991

$60
| Award | Score | Recipient | Prize |
| --- | --- | --- | --- |
| Scratch High Series | 1017 | | $140 |
| 2nd | 1012 | Thang Duc Thai | $70 |
| Scratch High Game | | Thang Duc Thai | $140 |
| 2nd | 296 | James Black | $70 |
| | |
| --- | --- |
| | $1,662.00 |
| | |
| --- | --- |
| | $3,971.00 |


4 Taps • $100.00 ($50.00 each)
Roland Jarata & Skip Shear

| 68 Entries @ $35 | $2,380.00 |
| --- | --- |
| Subtotal Prize Fund | $2,380.00 |
| Champions Shirt | $40.00 |
| Side Pots | $944.00 |
| High Scratch Game/Series Pot | $420.00 |
| 9-Tap Jackpot | $100.00 |
| Progressive Pot | $442.00 |
| Total Paid Out This Tournament | $4,326.00 |

| Time | Payout | 1st Game | 2nd Game | 3rd Game | 4th Game |
| --- | --- | --- | --- | --- | --- |
| Sat. | | | | | |
| 12:00 | $19 | Brad Diemert | Thang Thai | Vu Nguyen | Mick Hodge |
| total | $76 | 277 | 309 | 293 | 278 |
| 2:30 | $20 | Zac Clute | Ed rneson | Richard Howerton | Martin McElroy |
| total | $80 | 292 | 279 | 295 | 279 |
| 5:00 | $22 | Donnie Roberts | Ed Le Baron | Billy Rucker | Billy Rucker |
| total | $88 | 314 | 311 | 282 | 299 |