Kenmore Lanes
October 30th, 2021
Total Paid Out: $7,213.00
Returning to Kenmore Lanes for our popular 'Best 3 of 4' format.  Very strong scores persisted all-day, as there was at least one 800 series shot in every squad, leading to a very tight competition.  With the huge 9-Tap Jackpot starting the day at $7,783.00, we brought back our 'INSTANT $10' for the Front 2-Taps.  The Tour Members took full advantage of this rare Special with a record smashing total paid-out of $520.00.  There were many bowlers collecting the instant payouts multiple times, with Huyen Thai leading the way with 4 cashes over two squads and Jason McReynolds with an impressive 3 cashes in one squad.  Jason also made a run at the Front-7 getting the first 5-Taps, but striking on the 6th shot, collecting the Consolation Bonus worth $250.00.  
Willie Manning made a run at 7-Middle Taps, only having his run spoiled by a real strike. 
David Kim strung 6 in-a-row at the end of his game, getting the $500.00 shot at #7, only to have a stubborn 8-count derail the effort.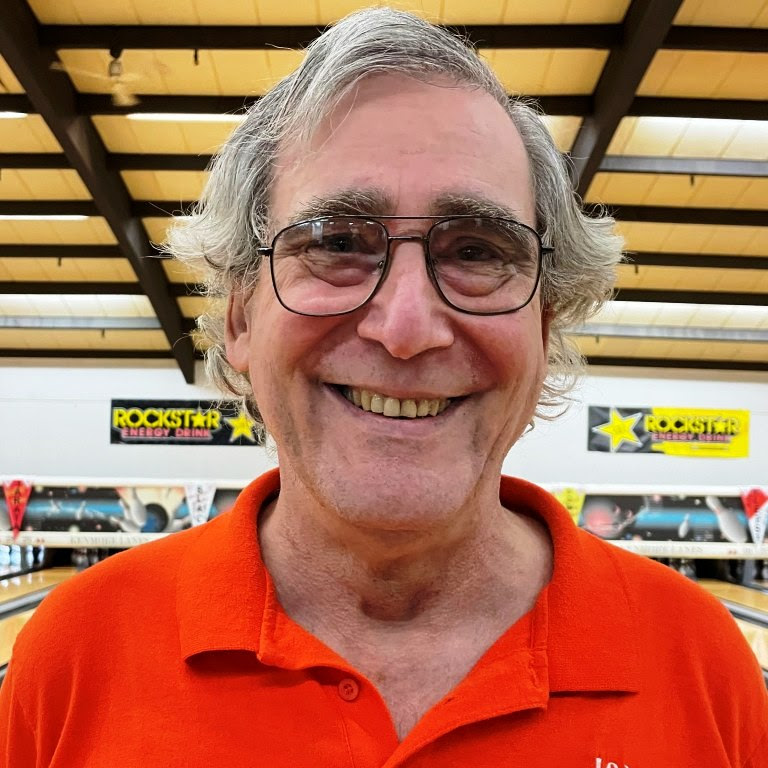 Our Champion this week is Hall-of-Fame Member Jon Schneider, taking the tight Victory by just ONE PIN!.  This is Jon's second Championship this month, winning the previous 'Best 3 of 4' at Skyway Bowl on Oct. 2nd.  This is impressively Jon's 12th career Title on the Tour.  Jon won with a Storm Ball that David Kim gave to him and Robert Kelly at Secoma re-drilled for him.  But as Jon said, "It's great being lucky", after tossing 6 or 7 Brooklyn strikes in his first game, claiming that he just could not hit the pocket.  Jon then made a slight move and got hot, almost shooting a 300 in his last game, finishing with a great 296 and a really nice 855 series.  Jon says he never saw this win coming and is ecstatic over his improved bowling lately.  With only $10 in the Progressive Pot, Jon still brings home a sweet check of $1,528.00.  This win brings Jon's career total Prize Money earnings to an incredible $40,288.00, becoming the Tour's SEVENTH Member of the very exclusive '$40,000.00 CLUB'.  Jon plans on using his winning to spoil his grandchildren.  I think David Kim better rethink giving away these winning bowling balls. 
                    Jon Schneider Kenmore Champion and 12th title win 
Finishing in 2nd Place, just ONE PIN SHORT of his 1st Tour Title, is Jordan Pangelinan.  This is a repeat from last week again, when the championship came down to just one pin. Jordan not only shot his career best series, but finished with career Biggest Cash.  Joining in 2019, Jordon took time off because of the shutdown from Covid, returning in August, with one Cash that month.  He came back and shot lights out this weekend with a nice 854 series, and a beautiful check of $952.00.     
Rounding out the Top 3 and the leader after the first squad was Kris Tong, who fired a very good 850 series that many thought was untouchable at the time.  The target on his back did not last long, as his score was topped in the next squad.  Kris was in a bit of a drought, not cashing since May.  Trying for his third Championship, Kris put a lot of pressure on his fellow bowlers with his great 1st Squad score.  His third place finish brings him a great check of $486.00 for his effort.
Finish

Winners

Total Score
Prize Money

1st

Jon Schneider

18 + 0

855

$900

1st Place $1,528.00

$20 Progressive Pot

$628

2nd

Jordan Pangelinan

41 + 0

854

$450

2nd Place $952.00

$20 Progressive Pot

$502

3rd

Kris Tong

36 + 3

850

$235

3rd Place $486.00

$20 Progressive Pot

$251

4th
Collin Young

15 + 3

836

205

5th
Chim Saechao

35 + 0

820

180

6th
Zac Clute

10 + 0

810

160

7th
Adrienne Simonds

49 + 0

806

140

8th
Erma Tappe

38 + 0

793

120

9th
Cal Fisher

13 + 0

786

110

10th
Rolando Liscano

38 + 0

780

105

11th
Dennis Crow

26 + 0

779

100

12thT
James Black

9 + 1

776

93

12thT
Billy Rucker

35 + 1

776

93

14th
Brad Diemert

18 + 1

775

85

15th
Dex DeCastro

11 + 1

768

80

16thT
Justin Leif

47 + 1

765

72

16thT
Samuel Nelson

53 + 0

765

72

18th
Tim Fierro

14 + 3

764

65

19th
Earl Kleist

12 + 0

763

60
| Award | Score | Recipient | Prize |
| --- | --- | --- | --- |
| Scratch High Series | 1015 | | $135 |
| 2nd | 999 | Zac Clute | $65 |
| Scratch High Game | 298 | James Black | $135 |
| 2nd | 296 | Jon Schneider | $65 |
| | |
| --- | --- |
| | $2,349.00 |
| | |
| --- | --- |
| | $7,380.00 |


5 Taps• $250.00
Jason McReynolds

| 95 Entries @ $35 | $3,325.00 |
| --- | --- |
| Subtotal Prize Fund | $3,325.00 |
| Champions Shirt | $40.00 |
| Side Pots | $1,297.00 |
| High Scratch Game/Series Pot | $400.00 |
| 9-Tap Jackpot | $250.00 |
| Progressive Pot | $1,381.00 |
| Total Paid Out This Tournament | $7,213.00 |

| Time | Payout | 1st Game | 2nd Game | 3rd Game | 4th Game |
| --- | --- | --- | --- | --- | --- |
| Sat. | | | | | |
| 12:00 | $16 | Zac Clute/Cal Fisher | Chris Andreula | Brad Diemert | James Black |
| total | $64 | 277/277 | 273 | 263 | 308 |
| 2:00 | $18 | Jon Schneider | John Delferro | Jon Schneider | Dex Decastro |
| total | $72 | 290 | 254 | | 268 |
| 4:30 | $19 | Johnnie Johnson | Jason McReynolds | Chim Saechao | Dex DeCastro |
| total | $76 | 287 | 278 | 280 | 256 |