HiLine Lanes
August 28th, 2021
Total Paid Out: $10,427.00
The Tour visited Hiline Lanes for our final goodbyes.  After this tournament Hiline Lanes closed its doors.  We at the 9-Tap Tour would like to thank Pat Johns and his team for all the support they have provided to the Tour over the years.  They are an awesome team and provided excellent service to everyone.  With our large turnout of bowlers, everyone showed their appreciation for Hiline's support.  Our Tour Members are AMAZING, as we set a RECORD for running later into the evening than ever before, yet nearly everyone stuck it out.  Thanks to multiple lanes breaking down on Friday night, they were not repairable for Saturday, leaving us with 4 pairs down, and limiting us to only 16 lanes to accommodate an impressive 163 bowlers.  With the 9 Tap Jackpot at $7,348.00 there was really no attempts to the front or middle 7 taps.  Over the course of the tourney, we finished with 5 bowlers with the front 4 Taps.  Each winning a nice $100.00, they are Ernie Jones, Cal Fisher, Magic Bristol, Sandra Nelson and Bob Rouse.  Pat Johns wanted to donate a new bowling ball for each squad, but upped it to two balls per squad when we got there.  Again we thank Pat for his generous offer and I am sure the 8 winners (below) are very happy for the bowling balls.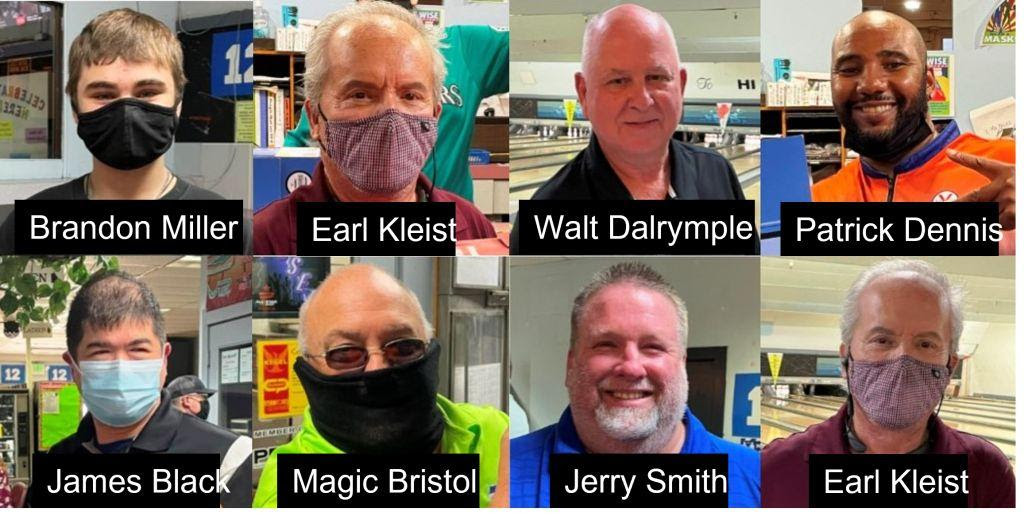 Here's a message from Pat Johns.
"Valerie and Pat appreciate all the well-wishers Saturday and hope all of you have happy memories from Hiline Lanes.  Pat hopes to continue seeing you in his Pro Shop that will be in the Sea-Tac area.  He will be giving lessons also.. Good Luck Bowlers!   We appreciate the 20 year relationship we've had with the 9 Tap Tour."
Being on the Tour for 9 years but recently living in Maywood, Illinois, 
Patrick Dennis
 took his 
8th Tour
 title.  He's Won Titles in 7 different centers, with Hiline Lines being the only center where he has won twice.  
Patrick's
 first entry started out mediocre, but a huge 4th game got him in a nice groove, leading to for his Winning re-entry.  He shot a very nice 
1070
 series using his 
Big Bowling 'Shim Rekker
' ball.  He said he was a little nervous coming down the stretch but held it together.  He would like to thank his girlfriend
 Amy,
 daughter and best friends 
Willie Manning Jr
 and 
Nate Hicks
 for their support and cheers.  With his hefty winnings of 
$1,981.00
, this should help support his activities of video games and fishing.  His 8th Title also gets him close to the exclusive "
$30,000.00 CLUB
", with prize money earnings now at 
$29,287.00.
Trying for his first title Dave Kedziorski finished in second place again, after finishing in second place in our " Split" tourney at Secoma.  His 1058 series is his best score on the Tour to date.  This time he finishes second all by himself and Cashes in a nice $902.00.  
Finally breaking out of his post Covid shutdown slump, Dale Coleman takes third place.  With his best finish of the year, Dale fired off a nice 1029 series.  With a big 4th game Dale could have boosted himself to his fourth career title.  His third place finish earned him a nice $466.00
Special SHOUT-OUT for ONE TOUGH DUDE... Mike Crowe finished in 5th Place with a nice 1020... despite 5 straight days of Radiation Treatments last week.
Finish

Winners

Total Score
Prize Money

1st

Patrick Dennis

2 + 1

1070

$1,100

1st Place $1,981.00

$20 Progressive Pot

$881

2nd

David Kedziorski

23 + 0

1058

$550

2nd Place $902.00

$20 Progressive Pot

$352

3rd

Dale Coleman

24 + 3

1029

$290

3rd Place $466.00

$20 Progressive Pot

$176

4th
Willie Downing

29 + 1

1024

$262

5th
Mike Crowe

31 + 1

1020

$240

6th
David Kim

5 + 2

1012

$220

7th
Walt Dalrymple

40 + 1

1003

$210

8th
Paul Rosengren

27 + 0

1001

$200

9th
Dan Watts

20 + 1

987

$190

10th
Bob Rouse

26 + 0

985

$180

11thT
Willie Manning Jr

15 + 0

982

$165

11thT
Cameron MacIsaac

22 + 4

982

$165

13th
Brian Peters

4 + 0

981

$150

14th
Jon Schneider

20 + 0

966

$140

15th
Zac Clute

16 + 1

959

$130

16th
Eddie Burdsall

27 + 0

950

$120

17th
Alec Chandler

26 + 0

947

$115

18th
Cory Stapleton

37 + 4

946

$110

19th
Ruong Tang

27 + 3

944

$105

20th
Shawn Saulsbury

31 + 0

941

$100

21st
Magic Bristol

6 + 0

940

$95

22nd
Earl Kleist

14 + 1

938

$90

23rd
Todd Strothman

24 + 0

935

$85

24th
Mike Miller

32 + 1

933

$80

25th
Scott Fulp

0 + 1

932

$77

26th
Heather Schaaf

41 + 0

928

$74

27th
Tim Fierro

15 + 0

924

$72

28th
Chuck DeForest

6 + 0

922

$70

29th
Andrew Scalf

26 + 0

920

$68

30th
Jeff Price

13 + 0

918

$66

31st
John Sabbatini

50 + 0

916

$64

32nd
Tara Strand

48 + 0

913

$62

33rd
Chuck Estes

33 + 0

907

$60
| Award | Score | Recipient | Prize |
| --- | --- | --- | --- |
| Scratch High Series | 984 | | $190 |
| 2nd | | | $140 |
| Scratch High Game | 298 | Dale Coleman | $190 |
| 2nd | 287 | Patrick Dennis | $95 |
| 3rd | 278 | Scottie Fulp | $45 |
| | |
| --- | --- |
| | $2,182.00 |
| | |
| --- | --- |
| | $7,479.00 |


4 Taps • $500.00 ($100 each)
E. Jones/C. Fisher/M. Bristol/ S. Nelson/B. Rouse

| 163 Entries @ $35 | $5,705.00 |
| --- | --- |
| Subtotal Prize Fund | $5,705.00 |
| Champions Shirt | $40.00 |
| Side Pots | $2,113.00 |
| High Scratch Game/Series Pot | $660.00 |
| 9-Tap Jackpot | $500.00 |
| Progressive Pot | $1,409.00 |
| Total Paid Out This Tournament | $10,427.00 |

| Time | Payout | 1st Game | 2nd Game | 3rd Game | 4th Game |
| --- | --- | --- | --- | --- | --- |
| Sat. | | | | | |
| 12:00 | $20 | Oscar Gestoso | Scott Fulp | Brett Schaaf | Brad Diemert |
| 2nd | $10 | Zac Clute | Thang Thai | Brad Diemert | Thang Thai |
| total | $120 | 286    261 | 270   274 | 271   267 | 283   261 |
| 2:00 | $26 | Dale Coleman | Willie Downing | Mike Crowe | David Kim |
| 2nd | $12 | Brett Schaaf | M.Crowe/C.MacIsaac | David Kim | Chuck Hufford |
| total | $152 | 325   291 | 299   283 | 291   275 | 273   267 |
| 4:30 | $20 | Willie Manning | Shaun Saulsbury | Tim Fierro | Patrick Dennis |
| 2nd | $8 | Shaun Saulsbury | Bob Rouse | Eddie Burdsall | John Sabatini |
| total | $112 | 279   271 | 307   265 | 273   262 | 290   261 |
| 6:30 | $21 | Paul Rosengren | Patrick Dennis | | |
| total | $84 | 292 | 283 | | |