Narrows Plaza
February 15th, 2020
Total Paid Out: $9,033.00
After a week off, the tour returned to action with our 'Best 3 of 4' format in play at Narrows Plaza Bowl and it turned out to be a somewhat surprising scoring fiesta!  Many bowlers thought that the oil pattern was different, perhaps easier than it was in our last visit?  We can assure everyone that it didn't change and that it was (perhaps) a combination of the weather and simply great bowling... Whatever the case, we'll make a slight adjustment to the pattern for next time in order to drop that Cut-Line score a bit.  There were 145 total entries, 29 bowlers making the cash list as we paid out $9,033.00. 
We started off the day by presenting Samson Ibale with his 2019 'Bowler of the Year' ring, then awarded Ajay Jarata with his 'Retro' bowling shirt featuring five stars for his five tour wins!  Congratulations, Gentlemen!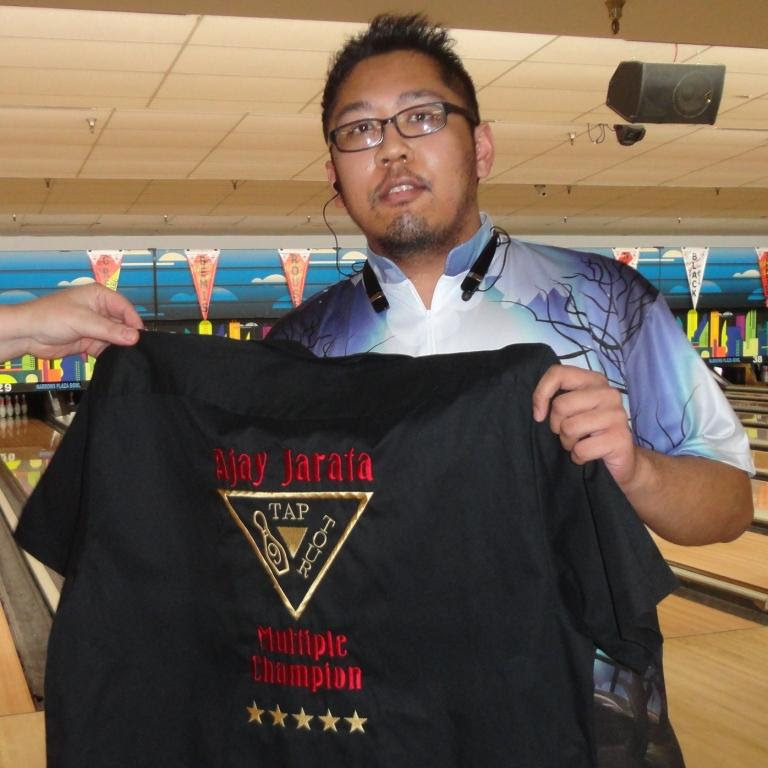 9 Tap strings were happening all over the place, all day!  We even had two bowlers, Matt Carlson (left) & Tim Fierro (right), who
had their own 7th shots at the 'Middle 7'.  Neither were able to convert to get the $750.00, but we did have a FIVE-WAY tie with the 'Front 4' as Ray Sedeno, Will Cotton, Nick Kehler, Mike Hammersmith and newcomer Christine Brown each earned $150.00 for a total of $750.00!  Even with that $750 coming out of the Jackpot, the pot remains well above $8k as we head to Bowlero South Seattle next Saturday. 
There were eight bowlers who scored over 800 as Leon Bemis, Zac Clute & Chuck Hufford shot 802 each, another newcomer (from Oregon) Laura DeGiovanni was at 819 and led the tournament after the first squad.  She wound up in 8th place! Not bad for her first tournament! Tim Fierro scored 820 for 7th, Will Cotton was 6th at  824, Zach Fuller was 5th at 834 and Heather Schaaf finished just one spot off the podium in 4th with an 837.  Great shooting!  Heather has been on fire lately and we're waiting for her to get that elusive first win! 
In just his fourth tour tournament since joining us last year, Timmy Phillips brought his 'A Game' shooting an incredible 840, as he was able to throw out an impressive 248 game.  Reluctantly, we share with Timmy the fact that had this been a regular 4-game tourney, he would have won easily with a 1088!  Timmy did earn $443.00, which should help soften the blow.  While on the subject of reluctant information, there is some more rough news for our 2nd Place finisher, Jason McReynolds as in his third game, he started off with ten (real) strikes, tapped in the 11th, only to have a 7-count on his final shot for 297...Had he gotten that final strike for 300, he would've edged out our champ by one pin!  Don't feel too sorry for Jason, though, he's already won twice in 2020 and remains arguably the hottest bowler on tour! 
Barely surviving those final game threats from Heather, Timmy & Jason was Jon Schneider as he had his best day in a couple of years, shooting 857 to earn his
 10th career title!  Jon estimates that it was around ten years ago when David Kim gave him the Acid 'Raw Hammer' ball he used to win this week, so it's not always the latest, new fangled equipment that gets the job done!  Robert Kelley at Secoma Lanes plugged and re-drilled that ball years ago and Jon says he'll continue to use it as it's one of his favorites.  Jon credits his recent 'health kick' along with lots of practice lately for success this week, he added that "I've been going to the gym now for over a year, so I'm getting healthier with 3+ miles a day."  He added "Wow! this was just as intense as it was when I got my first win (nearly 13 years ago)"  Jon took home $1,394.00 for the win and says he'll treat his family to a nice dinner and pay some bills.  With $10.00 in the Progessive Pot, Jon sets up next week at Bowlero South Seattle (formerly Acme SouthCenter) nicely as the Pro pot will be $2,330.00!  Great bowling everyone!  See you next Saturday!
Finish

Winners

Total Score
Prize Money

1st

Jon Schneider

23 + 0

857

$1,000

1st Place $1,394.00

$10 Progressive Pot

$394

2nd

Jason McReynolds

15 + 0

855

$510

2nd Place $825.00

$20 Progressive Pot

$315

3rd

Timmy Phillips

54 + 0

840

$285

3rd Place $443.00

$20 Progressive Pot

$158

4th
Heather Schaaf

44 + 0

837

$260

5th
Zach Fuller

46 + 4

834

$240

6th
Will Cotton

10 + 0

824

$225

7th
Tim Fierro

15 + 0

820

$210

8th
Laura DeGiovanni

48 + 0

819

$195

9thT
Chuck Hufford

37 + 1

802

$170

9thT
Zac Clute

23 + 0

802

$170

9thT
Leon Bemis

26 + 1

802

$170

12th
Bob Rouse

25 + 1

795

$150

13th
Phil Taylor

37 + 1

791

$140

14th
Raymond Sedeno

30 + 1

788

$130

15thT
Krisha Naff

38 + 2

783

$115

15thT
John Shaw

52 + 2

783

$115

17th
Pam Sims

35 + 4

781

$100

18th
Dan Grass

20 + 0

780

$95

19th
Dan Watts

24 + 5

778

$90

20th
James Black

3 + 2

773

$85

21st
Ed Haskins

20 + 4

771

$80

22ndT
Carla Rivera

49 + 0

767

$74

22ndT
Pat Riley

9 + 0

767

$74

24th
Ed Arneson

40 + 4

765

$70

25thT
Jesse McReynolds

7 + 1

763

$67

25thT
Sun Monnette

47 + 0

763

$67

27th
Peter Novak

26 + 0

761

$64

28thT
John Moore Jr

0 + 1

755

$62

28thT
Ralph Thompson

12 + 0

755

$62
| Award | Score | Recipient | Prize |
| --- | --- | --- | --- |
| Scratch High Series | 998 | | $160 |
| 2nd | 982 | Jason McReynolds | $80 |
| 3rd | 968 | Tim Fierro | $35 |
| Scratch High Game | | Jon Schneider | $120 |
| | 298 | Tim Fierro | $120 |
| 3rd | 297 | Jason McReynolds | $35 |
| | |
| --- | --- |
| | $2,330.00 |
| | |
| --- | --- |
| | $8,194.00 |


4 Taps Middle • $750.00 ($150.00 each)
R. Sedeno/W. Cotton/N. Kehler/C. Brown/M. Hammersmith

| 145 Entries @ $35 | $5,075.00 |
| --- | --- |
| Subtotal Prize Fund | $5,075.00 |
| Champions Shirt | $40.00 |
| Side Pots | $1,751.00 |
| High Scratch Game/Series Pot | $550.00 |
| 9-Tap Jackpot | $750.00 |
| Progressive Pot | $867.00 |
| Total Paid Out This Tournament | $9,033.00 |

| Time | Payout | 1st Game | 2nd Game | 3rd Game | 4th Game |
| --- | --- | --- | --- | --- | --- |
| Sat. | | | | | |
| 12:00 | $20 | Samson Ibale | Mitch Johns | Leon Bemis | John Shaw |
| 2nd | $7 | Leon Bemis | Dan | Nick Kehler | Dan  |
| total | $108 | 262/257 | 290/283 | 305/260 | 297/281 |
| 2:30 | $26 | Will Cotton | Jon Schneider | John Moore, Jr | Will Cotton |
| 2nd | $12 | Sun Monnette | Greg Burdsall | Pat Riley | Lisa Seifert |
| total | $152 | 310/309 | 321/298 | 279/277 | 274/274 |
| 5:00 | $23 | Zach Fuller | Tim Fierro | Heather Schaaf | Donnie Roberts |
| 2nd | $11 | Bob Rouse | Jason McReynolds | Jason McReynolds | Heather Schaaf |
| total | $136 | 304/261 | 313/284 | 321/312 | 277/277 |