Gold Coast Lanes
January 24th-26th, 2020
Total Paid Out: $18,766.00
Our 4th Annual Three Region Tournament at Gold Coast is in the books and what a turnout we had as the Las Vegas, Hawaii & Puget Sound regions were all very well represented, teaming up for 196 total entries! That 196 was up from 141 last year and we hope everyone spreads the word about the tour to make next year even better! The total entry total easily hits the mark for a new 3RT record which equated to another record 40 bowlers making it to the Finals and on to the Cash List!
We started off on Friday night with a two-game sweeper at 7:00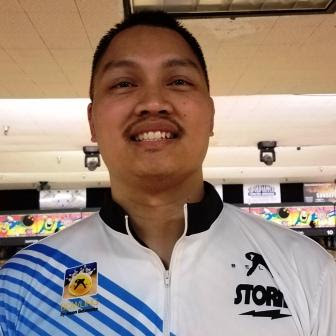 pm when 36 bowlers showed up and 
Sam Em
 lit it up to take the top prize. Then on Saturday we were up early with another sweeper, this time at 9:00 am where another 17 bowlers competed with 'Super' Sam again took the top spot! This time Sam finished with a 300 game to edge out 
Jermal Williams
.  All said, Sam's sweeper performance earned him 
$360.00
. Nice shooting, Mr. Em!
Somewhat surprisingly, stringing 9-Taps wasn't happening throughout the entire weekend, but we did have SEVEN bowlers who hit the front three taps, each pocketing $50.00.
Brian Selck started the tourney off right by posting a 1039 and wound up with the weekend's top score to earn the coveted 'Top Qualifier' jacket and wound up finishing 5th overall.  Others to qualify with scores over 1000 were Chuck Gonsalez, John Hata & Kannha Tong.  The Cut-Line to qualify and cash this week was 912.
With eight bowlers earning a first round BYE, the Finals started off with three knockout rounds where the first round pitted 32 bowlers vying to NOT be in the bottom eight, then we added in those eight BYE's and again, 33 bowlers shot to NOT be in the bottom eight. This got us down to 24 for the third round and you guessed it, another eight had to bow out to get us down to the Sweet 16.
In the Sweet 16 we had some fantastic head to head matches, some of which came down to the last shot, which was a precursor for things to come later...But in that Sweet 16 all three regions were well represented to get us to the Elite 8 as several bowlers found their respective grooves.
Our Final Four had Dan Grass & Chris Andreula matching each other strike for strike on one pair while N. Ireland's Donna Horton matched up against James Strand, where Donna was the recipient of some crazy good carry and James...not so much. Grass wound up edging Andreula while Horton ended Strand's hopes for the title.
The Championship match was a GREAT ONE as Dan started out with a decent lead, only to have Donna make a legendary comeback, forcing Dan to mark and get good count on the 10th frame. Grass wound up edging Horton by just TWO pins as these two had everyone on edge, including the Storm representatives on hand to live stream the Finals to the world. Gary Hulsenberg said that he was thrilled to see it come down to the last shot, saying "How exciting was that?"  Gary's broadcast partner, Blair Blumenscheid was all smiles, saying that she really enjoyed the drama at the end.  Speaking of the live stream, at last check there were 10,600+ views and lots of positive feedback.  We thank Storm and specifically, Gary & Blair for coming out to join us!
Andreula and Strand wound up taking home $842.00 apiece for their 3rd place tie and they have Horton to thank because she didn't contribute to the winner's pot. Because of this, the two in 3rd place earnings increased significantly. The same goes for our four 5th place finishers, Kare Tong, Dennis Huston, Hata & Selck as the foursome's earnings went from $300 each to $390.
More about Donna as she and her husband, Kevin Horton were on hand for a second straight year and this time both were on the Cash List (Kevin was 9th). When we spoke to Donna, she said she was "incredibly delighted and surprised" to make it as far as she did and was all smiles, despite opting out of the winner's pot. Congrats to Donna & Kevin, safe travels back to N. Ireland and we hope to see you back in Vegas again next year!
What a story for our Champ, Dan 'The Man' Grass! Some of you will recall last year in Vegas when Dan was on hand, bowled, but suddenly had what we'll refer to as a extremely scary heart related health scare which landed him in the hospital which was a literal "life changer" for him. Dan wasn't even able to get back to Seattle for a few days. The good news is that Dan's health has obviously improved and he was able to have his Mom on hand this week to root him on to victory! This is Dan's third tour win and by far biggest pay day as he earned $3,166.00 which more than pays for his trip, which includes him staying 'Sin City' to bowl in another tournament starting today.  Dan said "I was nervous those last few games, had to take an extra breath before each shot."  He wore his Dexter 'The 9' shoes and threw his Halo 'Pearl' drilled up by Robert Kelley at Secoma Lanes in Federal Way, Wa. 
We'd like to thank everyone for their participation and a special thanks to our side pot 'duo' Linda & Char along with Lynetta at the check in table and our awesome Floor Director's John & Donnie and especially the miracle worker U'i, whose computer (and other) skills saved the day for us! Also a shout out to Kawika, Frances, Rob and Margie! Can't mention Margie without calling out her SUPER performance as she made the Finals, finishing tied for 17th!
What a weekend!, special shout out to our Hawaii bowlers, who we know and appreciate the fact that they have more travel than the rest of us and to some of those who we haven't seen in a long time such as Bruce Gorr, Kathy Johnson, Rob White, Lisa Ohm from Arizona.
Thanks to everyone, SEE YOU ALL NEXT YEAR!!!
Finish

Winners

Total Score
Prize Money

1st

Dan Grass

20

932

$1,000

1st Place $3,166.00

$20 Winner's Pot

$2,166

2nd

Donna Horton

28

922

$600

2nd Place $600.00

$20 Winner's Pot

$0

3rd-4th

Chris Andreula

30

978

$350

3rd Place $842.00

$20 Winner's Pot

$492

3rd-4th

James Strand

23

964

$350

3rd Place $842.00

$20 Winner's Pot

$492

5th-8th
Kare Tong

30

912

300 + 90

5th-8th
Dennis Huston

14

913

300 + 90

5th-8th
John Hata

5

1027

300 + 90

5th-8th
Brian Selck

21

1039

300 + 90

9th-16th
Kevin Horton

5

984

$260

9th-16th
Ken Iredale

18

959

$260

9th-16th
Michelle Scheitzach

13

947

$260

9th-16th
Ken James

21

920

$260

9th-16th
Carla Rivera

49

928

$260

9th-16th
James Hayashi

30

929

$260

9th-16th
Rob White

8

899

$260

9th-16th
Terry Sherman

12

998

$260

17th-24th
Lekai Tong

57

977

$210

17th-24th
Margie Victor

45

912

$210

17th-24th
Chuck Gonsalez

31

1029

$210

17th-24th
Sam Em

23

923

$210

17th-24th
John Iyoki

22

992

$210

17th-24th
Tim Fierro

15

942

$210

17th-24th
Sean Carney

14

925

$210

17th-24th
Brian Peters

6

950

$210

25th-32nd
Archie Trajano

-1

966

$180

25th-32nd
Jon Schneider

23

985

$180

25th-32nd
Kannha Tong

35

1026

$180

25th-32nd
Kris Tong

41

917

$180

25th-32nd
Rollie Abella

28

916

$180

25th-32nd
Maurice Clark

26

923

$180

25th-32nd
Ken Reynolds

0

948

$180

25th-32nd
Paul Wright

3

929

$180

33rd-40th
Stroker Worthy

16

933

$150

33rd-40th
Ed Berg

19

923

$150

33rd-40th
Ed Arneson

40

928

$150

33rd-40th
Kyle Michalosky

9

958

$150

33rd-40th
Jon Snow

0

923

$150

33rd-40th
Walt Dalrymple

36

945

$150

33rd-40th
Willie Manning Jr.

9

915

$150

33rd-40th
Bruce Gorr

27

910

$150
| Award | Score | Recipient | Prize |
| --- | --- | --- | --- |
| Scratch High Series | 1007 | | $160 |
| 2nd | 955 | Brian Selck | $80 |
| 3rd | 948 | Kenny Reynolds | $35 |
| Scratch High Game | | Chris Andreula | $160 |
| 2nd | 279 | John Hata | $80 |
| 3rd | 278 | Brian Selck | $35 |


3 Taps • $350.00 ($50.00 each)
Poteat/Andreula/Michalosky/Kailewa/Snow/Sherman/Reynolds

| 196 Entries @ $35 | $9,800.00 |
| --- | --- |
| Subtotal Prize Fund | $9,800.00 |
| Champions Shirt | $40.00 |
| Side Pots | $4,416.00 |
| High Scratch Game/Series Pot | $550.00 |
| 9-Tap Jackpot | $350.00 |
| Progressive Pot | $3,610.00 |
| Total Paid Out This Tournament | $18,766.00 |

| Time | Payout | 1st Game | 2nd Game | 3rd Game | 4th Game |
| --- | --- | --- | --- | --- | --- |
| Sat. | | | | | |
| 12:00 | $20 | Rob Pagliaroli | Ed Arneson | Terry Sherman | Maurice Calrk |
| 2nd | $10 | Vergillio Repollo | Kannah Tong | Greg Mamic | Kannah Tong |
| total | $120 | 268   262 | 265   257 | 275   267 | 309   270 |
| 2:30 | $20 | Brian Selck | Chuck Gonsalez | Chris Andreula | LeKai Tong |
| 2nd | $6 | John Hata | Jon Hunt | LeKai Tong | Brian Selck |
| total | $104 | 299   271 | 277   271 | 317   276 | 301   299 |
| 5:00 | $20 | Al Garcia | Bill Jones | Kyle Michalosky | David Kaea |
| 2nd | $10 | Kyle Michalosky | Huyen Thai | Al Garcia | Dave Sisler |
| total | $120 | 276   275 | 272   271 | 261   255 | 267   263 |
| Sun. | | | | | |
| 11:00 | $21 | Bob Kailewa | Huyen Thai | James Strand | Jon Schneider |
| total | $84 | 267 | 261 | 285 | 280 |
| 1:00 | $22 | William Reyes Jr | Huyen Thai | Jon Hunt | Stephen Cid |
| total | $88 | 291 | 273 | 263 | 256 |
| | | | | |
| --- | --- | --- | --- | --- |
| Finish | Winners | Hdcp | Total Score | Earnings |
| 1st | Sam Em | 23 | 502 | $210 |
| 2nd | Raymond Sedeno | 30 | 486 | $100 |
| 3rd | James Hayashi | 30 | 477 | $80 |
| 4th | Kare Tong | 30 | 458 | $60 |
| 5th | Kawika Kaea | 1 | 456 | $40 |
| 6th | Dave Sisler | 25 | 444 | $30 |
| 7th | John Iyoki/Huyen Thai | 22 / 6 | 444 | $20 |
| | | | | |
| | Sweeper #2 | | | |
| 1st | Sam Em | 23 | 522 | $150 |
| 2nd | Jermal Williams | 3 | 502 | $70 |
| 3rd | Ken James | 21 | 482 | $30 |