Daffodil Bowl
Sept. 1st, 2019
Total Paid Out: $13,433.00
We mentioned last week, that back in 2013, Daffodil Bowl hosted the largest 1-Day Tournament in Tour history (213 Entries).  Over the weekend, Daffodil again made history with a massive 191 Entries, the largest turnout since that 2013 Record was set (also the largest 2-Day turnout since 2011).  As with any great competition, we had a little of everything from the Heroes to the Heartbreaks and even a few 2nd Chances.  Willie Manning Jr & Eric Arkoncel (N.Vancouver, BC) got a second chance in the 1st Round of the Finals, when both thought they'd been eliminated, shoes changed and Willie chased down in the parking lot.  An error on a hdcp, opened one more spot, but they were tied, so a 9th-10th roll-off was needed... they tied again... but Willie prevailed in the do-over.  Numerous GREAT Head-to-Head Matches highlighted the Sweet 16 (details below), right down to the
Championship match, when the outcome wasn't decided till the 10th Frame (233-240).  A record was also set in the Scratch Pot with an amazing$730.00 paid out in the side Pot.   Dan Grassearned the Top Qualifier Jacket and his choice of a new Storm Ball for his awesome 1083 series, to go along with his 9th Place finish.

We questioned whether the 9-Tap Jackpot would survive the onslaught at Daffodil... it did, but just BARELY!!  FIVE bowlers hit the Front-5 Taps (B.Schaaf, J.Sherman, T.Strand, J.Truitt & C.Hufford), collecting a 2019 high of $1,875.00 from the Jackpot ($375.00 each).  We also had two near misses... on Saturday, Matt Carlson had EIGHT taps in the first 9 frames, including one 10th frame shot for $750.00 (7-Middle Taps), when a 10-Pin Strike ended his run (video below - fixed)... the other was Earl Kleist who loves to create history.  Similar to the heartbreak of tossing your first 300 game when it doesn't count, Earl became the first Member to hit the Front-7 Taps during a Finals Match, when the Jackpot is not in play.  OUCH!! 
Our 2019 3QC Champion is Jeff Armour, who's been a regular on the Tour since 2013, Winning his 2nd Career Title, with some 'clutch' shots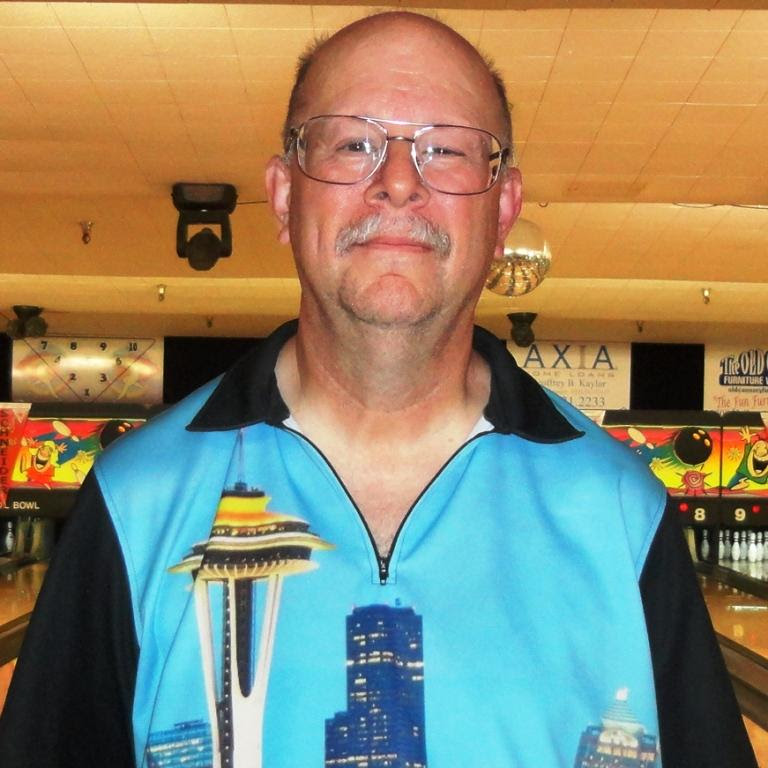 & some big brakes.  Like a Champ, Jeff saved two of his best games for his Semi-Final 251 & Final Match 240.  In a very tight Final Match against Tong Nguyen, Jeff had a 'Heart Attack' shot in the 9th frame, that we thought might require a defibrillator... after a nice string of strikes, a 5-10 split looked like it would doom his game, until the 10-pin keeled over in slow motion that seemed to take forever.  That strike turned out to be HUGE, ultimately giving Jeff a 7-pin margin of victory.  Jeff's been on a bit of dry spell this year... previously he always got into the Progressive Pot... lately he hasn't.  This week, not getting in the Pot cost Jeff $1,155.00, which will remain in the Pot, creating THE LARGEST PRO. POT in 6 years, an unheard of $3,487.00.  Jeff used his Storm 'Code Black' drilled at the Paradise Pro Shop for his big Win, saying he may buy a 
new bag with some of his $1,200.00 winnings.  Jeff has been using his Sales Tax Credits for the last 4 weeks and said that he was determined to parlay those Credits into some Winnings... the 3QC was the last of his Credits... so nice Parlay Jeff!  He also wanted to thank fellow bowler Gary Woldt for his support and friendship. 
Two of the Final 4 are Tour Hall of Fame Members and 3 of the Top 4 Finishers (2nd-3rdT-3rdT) were 'Original' Tour Members all joining in 2002, with Membership #35, #100 & #163.  Tong Nguyen HOF(#100) added to his "Legend" with quite a weekend performance.  He qualified as the #2 Seed with a BIG 1075 series and in the Finals consistently tossed 5 straight game of 220 or better (scratch), winning one really tough match against Zac Clute 263/247.  The HUGE 2nd Place check for $1,062.00, pushes Tong's earnings to $55,015.00 for his Tour career.  In a 3rd Place tie, Bob Rouse HOF & Joe Fincher each took home $415.00 for their efforts.  Joe (#163) shot 5 solid games in the Finals, including an opening 278 (304), before getting caught by a Hot Tong.  Bob (#35) had his best showing of the year and he reached the Semi-Final Match after 3 straight games over 252 (w/hdcp), but his 214 wasn't enough to beat Jeff for the Finals berth.  Bob now has$37,587.00 in Career Earnings.
Finish

Winners

Total Score
Prize Money

1st

Jeff Armour

42

963

$1,200

1st Place $1,200.00

$0 Progressive Pot

$0

2nd

Tong Nguyen

11

1075

$600

2nd Place $1,062.00

$20 Progressive Pot

$462

3rd-4th
Bob Rouse

26

975

$300

3rd Place $415.00

$20 Progressive Pot

$115

3rd-4th
Joe Fincher Jr.

26

962

$300

3rd Place $415.00

$20 Progressive Pot

$115

5th-8th
Andrew Scalf

31

984

$245

5th-8th
Scott Fulp

2

977

$245

5th-8th
Matt Carlson

23

943

$245

5th-8th
Zac Clute

29

935

$245

9th-16th
Daniel Grass

21

1083

$190

9th-16th
Calvin Fisher

11

1972

$190

9th-16th
Tim Fierro

12

987

$190

9th-16th
Samson Ibale

4

977

$190

9th-16th
Mitch Johns, Sr.

25

977

$190

9th-16th
Sun Hwang

35

972

$190

9th-16th
Earl Kleist

12

951

$190

9th-16th
Roland Jarata

28

967

$190

17th-27th
Raymond Sedeno

35

1044

$140

17th-27th
L.C. Cofield

27

1035

$140

17th-27th
Ed Berg

24

1031

$140

17th-27th
Vernon Shear Jr

5

1018

$140

17th-27th
Peter Davis

25

1010

$140

17th-27th
Brett Schaaf

35

1007

$140

17th-27th
Huyen Thai

9

993

$140

17th-27th
Willie Manning Jr.

9

950

$140

17th-27th
Thang Duc Thai

9

947

$140

17th-27th
George Gardner

13

945

$140

17th-27th
Michael Hammersmith

32

944

$140

28th-38th
Sun Monnette

51

1002

$110

28th-38th
Alvin Koch

28

994

$110

28th-38th
Sam Em

27

991

$110

28th-38th
Curtis Baskett

26

979

$110

28th-38th
Joes Mastandrea

64

979

$110

28th-38th
Paul Rosengren

28

978

$110

28th-38th
Eric Arkoncel

2

967

$110

28th-38th
Jeremy Truitt

14

960

$110

28th-38th
Heather Schaaf

47

958

$110

28th-38th
James Black

9

944

$110

28th-38th
Golden Powell

61

939

$110
| Award | Score | Recipient | Prize |
| --- | --- | --- | --- |
| Scratch High Series | 998 | | $120 |
| 2nd | 978 | Kenny Burnside | $60 |
| Scratch High Game | 300 | Ed Berg | $120 |
| 2nd | | Kenny Burnside | $60 |
| | |
| --- | --- |
| | $3,487.00 |
| | |
| --- | --- |
| | $7,967.00 |


•5 No-Taps Middle $1,875.00
B. Schaaf/J. Sherman/T. Strand/J.Truitt/C. Hufford

| 190 Entries @ $35 | $6,650.00 |
| --- | --- |
| Added by Carstar-Miller-Heritage | $1,000.00 |
| Subtotal Prize Fund | $7,650.00 |
| Champions Shirt | $40.00 |
| Side Pots | $2,446.00 |
| High Scratch Game/Series Pot | $730.00 |
| 9-Tap Jackpot | $1,875.00 |
| Winner's Pot | $692.00 |
| Total Paid Out This Tournament | $13,433.00 |

| Time | Payout | 1st Game | 2nd Game | 3rd Game | 4th Game |
| --- | --- | --- | --- | --- | --- |
| Sat. | | | | | |
| 12:00 | $20 | Alvin Koch | Zac Clute | Ed Berg | Earl Kleist |
| 2nd | $10 | Kleist/Nguyen | Tim Fierro | Jeff Scott | George Gardner |
| total | $120 | 306   265 | 306   268 | 303   275 | 258   258 |
| 2:30 | $24 | Willie Manning | Dan Grass | Cal Fisher | Chris Andreula |
| 2nd | $12 | Barb Rosengren | Cal Fisher | Isaac Joseph | Tara Strand |
| total | $144 | 307  266 | 296  289 | 309  305 | 280  277 |
| 5:00 | $20 | Dan Grass | ScottyFulp | Tong Nguyen | James Strand |
| 2nd | $10 | Matt Carlson | John Moore III | Paul Rosengren | Tong Nguyen |
| total | $120 | 321  287 | 298  287 | 308  280 | 289  253 |
| Sun. | | | | | |
| 11:00 | $16 | Samson Ibale | Zac Clute | John Moore III | Huyen Thain |
| total | $64 | 253 | 260 | 285 | 286 |
| 1:00 | $20 | Skip Shear | Joe Williams | Kenny Burnside | Curtis Basket |
| 2nd | $7 | Andrew Scalf | Bill Jones | Shear/Scott/Fincher | J. Burdine/T. Edwards |
| total | $108 | 269  268 | | 258 | |