Narrows Plaza
June 24th, 2017
Total Paid Out: $6,607.00
As the Tour heads to our annual Summer Break before returning on July 15th, we visited Narrows Plaza Bowlfor our 'Best 3 of 4' format and what a day as our winner wasn't decided until pretty much the last shot!  
The 9-Tap Jackpot has had a pretty good run in building back up as we were at $2,877.00 entering the day, but with a bit of history of the Jackpot being hit at Narrows, we thought that maybe Saturday would be a big pay day for someone...First Bob Berryman made a run, then it was Donnie Roberts doing the same and later on Chuck Hufford joined the party with five taps. While these three were unable to take it beyond five,David Kim didn't stop there as he hit the front six, earning himself that 'Golden Shot' at the Jackpot which was for $2,302.00!  Take a look at the video by clicking either picture below to see how David fared.
Congrats to Mr. Kim for earning $500.00 for hitting the front six 9-taps! 
After the 1st Squad it was apparent that scores were going to be a little on the lower side as initally Dale Coleman had the lead with a 733.  After two squads,Will Cotton took the lead with his impressive 761which included a 300 game!  After three, James Blackpushed the lead up to a 799 (also with a 300 game) and was looking good to take home the Title...In steppedSamson Ibale who shot 802 with a 300 of his own, edging out his buddy, Mr. Black to take the Top Spot away while about ten lanes over there was a commotion along with a 
seemingly 'on edge' Patrick Dennis.  Patrick is very used to tournament bowling and has plenty of his own past Titles to speak of, but this time it was his girlfriend, Amy Salmo in the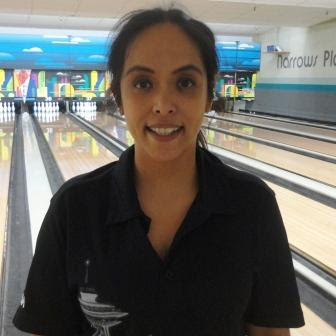 mix!  Dennis has coached Amy, who is new to the game, for the last couple of years and she has shown steady improvement over that time.  Rob mentioned to me (Steve) that it is refreshing to see a lower average bowler enter the final frame of the day needing two strikes to take the title and then to calmly convert was special!  Amy earned her first Tour Title and $1,429.00 by shooting 808 and we're not sure if she was aware how important those last two strikes were???  Whatever the case, she was pretty excited and "nervous", she said and thanked her "Baby" (Patrick) along with friend, Willie Manning, Jr., as she put it "Even though he wasn't here". Amy also thanked Pearl & Ray Sedeno.  She mentioned that she didn't have any plans for the winnings other than to bowl with us more, but we suspect that she'll buy herself something nice! Congratulations Amy, What a great win!
Finish

Winners

Handicap

Total Score
Prize Money

1st

Amy Salmo

61

808

$1,000

1st Place $1,429.00

$10 Progressive Pot

$429

2nd

Samson Ibale

-6

802

$500

2nd Place $843.00

$20 Progressive Pot

$343

3rd

James Black

8

799

$242

3rd Place $414.00

$20 Progressive Pot

$172

4th
Rick Thompson

32

789

$200

5th
Will Cotton

9

761

$180

6th
James Strand

19

755

$160

7th
Brian Selck

19

748

$145

8th
Joshua Young

9

746

$130

9th
Pearl Sedeno

28

738

$120

10th
Jesse Rowe

46

737

$110

11thT
Calvin Fisher

7

733

$97

11thT
Dale Coleman

15

733

$97

13th
Daniel Grass

22

732

$90

14th
James Pippin

19

730

$85

15th
Chris Andreula

31

727

$80

16th
Bob Berryman

13

724

$75

17th
Earl Kleist

7

722

$70

18th
Jamie Winkle

48

720

$66

19th
Aaron Long

36

717

$63

20th
Chuck Hufford

33

715

$60
| Award | Score | Recipient | Prize |
| --- | --- | --- | --- |
| Scratch High Series | 1041 | | $140 |
| 2nd | 973 | James Black | $70 |
| Scratch High Game | | James Black/Samson Ibale/James Strand | $210 |
| | |
| --- | --- |
| | $1,923.00 |
| | |
| --- | --- |
| | $2,797.00 |


•6 No-Taps $500.00
David Kim

| 102 Entries @ $35 | $3,570.00 |
| --- | --- |
| Added by 9-Tap Tour | |
| Subtotal Prize Fund | $3,570.00 |
| Champions Shirt | $40.00 |
| Side Pots | $1,133.00 |
| High Scratch Game/Series Pot | $420.00 |
| 9-Tap Jackpot | $500.00 |
| Winner's Pot | $944.00 |
| Total Paid Out This Tournament | $6,607.00 |

| Time | Payout | 1st Game | 2nd Game | 3rd Game | 4th Game |
| --- | --- | --- | --- | --- | --- |
| Sat. | | | | | |
| 12:00 | $17 | Dale Coleman | Oscar Gestoso | Pete Wood | Huyen Thai |
| total | $68 | 268 | 272 | 274 | 255 |
| 2:00 | $21 | Lisa Seifert | Will Cotton | Jesse Rowe | John Schelegle |
| 2nd | $10 | Aaron Long | Andrew Scalff | Cal Fisher | Barb Rosengren |
| total | $124 | 264/262 | 309/287 | 297/274 | 259/249 |
| 4:30 | $16 | James Black | John Schelegle | Earl Kleist | Greg Roberts |
| total | $64 | 308 | 254 | 282 | 284 |
| 6:30 | $18 | Rick Thompson | Amy Salmo | Amy Salmo | James Strand |
| total | $72 | 287 | 274 | 317 | 319 |