Ft. Shafter
August 24th, 2019
Total Paid Out: $4,718.00
Ft. Shafter Lanes 
University of Hawaii Football Season is here and from time to time will be trying times for the tour.  UH home games will give the tour the "jitters" because it will be a mystery of not knowing who will show for the tournament.  After a high scoring and last second heroics on the one yard line, the UH Warriors following may give us competition.  Although we did have 63 entries, paid 13 places with a total payout of $4,718.00; low to cash was 941 and an "Old Guy" gets back on the winning trail.  Awesome Tournament!! 
The Old Guy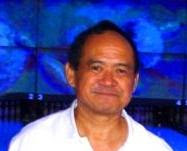 "Old" Ben Ballesteros Jr., retired HPD Officer (still Old), wins title number 8.  It was a long drought for Ben, nearly 3 years, but he's back in the "Why . . ners Circle".  Ben thought that the only way to be on the cash list was to post good scores and maybe he would place in the top 5 or on the cash list, somewhere.  Ben bowls so consistently, no perfect scores just consistency.  Ben Dela Cruz led the first squad, posting a nice 1020 score.  Then in walks BBJr. to bowl in the 2nd squad and the leader board changes quickly as the "Old Guy" posts a 1076 and secures another "Star" on his "Star-studded Shirt".  There were some great scores in the 3rd squad but no one came close to BBJr.  For just having fun, Ben wins his 8th Championship and takes home $1,202.00.  Ben Dela Cruz  was robbed of his first title but did finish in 2nd Place for $543.00 and Steven Cid in 3rd Place for $276.00.  Great Finish!! 

Progressive & 9 Tap Jackpot 

Our 9 Tap Jackpot stands at $1,834.00 and the Progre$$ive Pot  also decreased as well to $ 991.00.   Giles Okada and Terrence Fukuda strung 4 no taps in the final squad and paid $25.00 each. 

SCHOFIELD BOWLING CENTER CLOSURE 

Schofield Bowling Center is completing their final renovations and will be closed until October 9, last report.  That means the 9 Tap Tour tournament scheduled for September 21, is CANCELED.  

The next scheduled event will be at Ft. Shafter Lanes October 19 & November 2; Schofield on November 16.  Check the schedule online @ www.9taptour.com

.  Squad times have changed at Schofield Bowling Center to accommodate the Bowling Centers  "Cosmic Bowling".  The NEW Squad times are;  12:00 pm;  2:00 pm;  4:30 pm.  

Please pass on the word to other 9 Tap Tour Members, greatly appreciated.
Finish

Winners

Handicap

Total Score
Prize Money

1st

Benjamin Ballesteros

8

1076

$628

1st Place $1,202.00

$20 Progressive Pot

$574

2nd

Benjamin Dela Cruz

34

1020

$314

2nd Place $543.00

$20 Progressive Pot

$229

3rd

Stephen Cid

13

1000

$162

3rd Place $276.00

$20 Progressive Pot

$114

4th
Surung Sue Stephens

25

988

$149

5th
Giles Okada Jr.

3

985

$135

6th
Blaine Murobayashi

9

972

$122

7th
Andrae Lara

11

961

$110

8th
Matthew Rhoads

11

958

$99

9th
Jeremy Ledet

-2

952

$88

10th
Joshua Lum

12

948

$78

11th
Kevin Fukuda

27

946

$70

12th
Kevin Asato

1

945

$64

13th
Sheldon Cadoy

30

941

$60
| Award | Score | Recipient | Prize |
| --- | --- | --- | --- |
| Scratch High Series | 1024 | Ben Ballesteros | $95 |
| 2nd | 972 | Ben Ballesteros | $60 |
| Scratch High Game | 296 | Jeremy Ledet | $95 |
| | 296 | Stephen Cid | $60 |
| | |
| --- | --- |
| | $991.00 |
| | |
| --- | --- |
| | $1,834.00 |


•4 No Taps $50.00
Terrence Fukuda & Giles Okada

| 63 Entries @ $33 | $2,079.00 |
| --- | --- |
| Side Pots | $1,362.00 |
| High Scratch Game/Series Pot | $310.00 |
| 9-Tap Jackpot | $50.00 |
| Progressive Pot | |
| Total Paid Out This Tournament | $4,718.00 |

| Time | Each | 1st Game | 2nd Game | 3rd Game | 4th Game |
| --- | --- | --- | --- | --- | --- |
| 12:00 | $15 | Tomomi Shimabukuro | Stephen Cid | Stephen Cid | Sue Stephens |
| total | $60 | 302 | 271 | 283 | 325 |
| 2:30 | $11 | Ben Ballesteros | Stephen Cid | Ben Ballesteros | Ben Ballesteros |
| total | $44 | 267 | 305 | 279 | 281 |
| 5:00 | $17 | Randy Kaea-Cook | Blaine Murobayashi | Jeremy Ledet | Glen Lim |
| total | $68 | 266 | 287 | 294 | 282 |